Better quality of life, every day
THERAPEUTIC SUPPORT FOR RARE DISEASES – AT HOME.
No more constant visits to your doctor or the clinic. We implement the therapy prescribed by your doctor at your home – reliably, safely and professionally. It is important to us to offer you everything you need to be able to integrate your therapy into your professional and private everyday life in the best possible way – even, and especially, in the case of rare diseases.

Europe-wide support

More than 10 years in the industry

Specially trained nurses

Certified service
COVID-19 – We are here for you!
Our services – more important than ever during the coronavirus pandemic
Our services – more important than ever during the coronavirus pandemic
Hospitals may currently be one of the most common sites of COVID-19 transmission. This poses a particular risk for patients with rare diseases, that can be avoided with the help of home therapy. For this purpose, our medical staff implements the therapy prescribed by the doctor at the patient's home.
Information for patients
Is my care guaranteed?
This is a question many people are currently asking themselves. Fortunately, the answer is yes! Even during the coronavirus crisis, our medical staff will come to your home. And we cooperate with a specialist pharmacy that stocks all medicines and supplies in sufficient quantities – this ensures the continuation of all therapeutic care.
Information for doctors, clinics and the industry
How can I register my patients quickly?
Write to us for more information about home therapy. We support you in quickly and easily implementing the therapy in the home environment.
Therapies
We bring quality of life to your home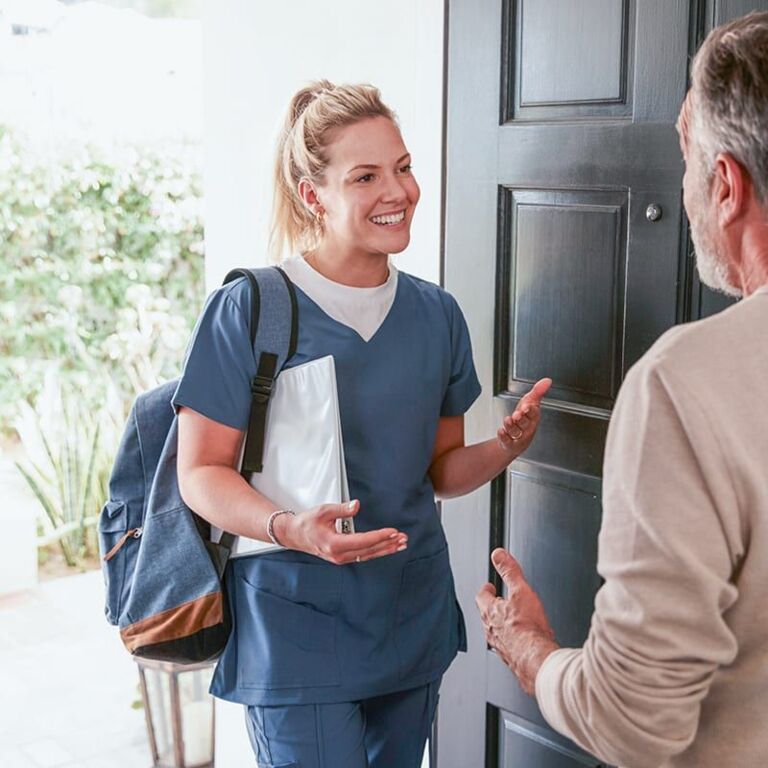 Home therapy for rare diseases
Our certified nurse will come to your home to carry out the therapy. It is important to us that our nurses are specially trained for their patients' illnesses. You can rest assured that we are familiar with your particular challenges and needs and will respond to them.
Therapy programmes
Fabry disease
Gaucher's disease
Pompe disease
Hurler-Scheie syndrome (MPS I)
Hunter syndrome (MPS II)
Crohn's disease
Morquio syndrome (MPS IV)
Maroteaux-Lamy syndrome (MPS VI)
Hereditary angioedema (HAE)
Acid lipase deficiency
Idiopathic pulmonary fibrosis (IPF)
osteoporosis
short bowel syndrome
haemophilia
alpha-mannosidosis
myasthenia gravis
desire to have children – intralipid infusion therapy
MS
PNH
aHUS
ALS
AML
PAH
Careers at Healthcare Deutschland – apply now!
Ongoing further training & qualification
Attractive remuneration & additional benefitsn
Active participation in innovative concepts in home therapy
A diverse range of assignments & activities
A dedicated & motivated team
Specialists in demand at many locations in Germany